Wooden Baby Milestone Discs
(This post contains affiliate links. Read my full disclosure.)
Parenthood is a journey filled with countless heartwarming moments and milestones, especially during the first year of a baby's life. These moments are precious, and parents are always eager to capture and remember them. Wooden baby milestone discs and discs have emerged as a delightful and enduring way to document these significant events.
Here, we'll explore the world of wooden baby milestone cards and discs, discussing their appeal, versatility, and how they serve as beautiful keepsakes for families.
The Allure of Wooden Baby Milestone Cards and Discs
Wooden baby milestone cards and discs have gained immense popularity for several compelling reasons:
Durability: Unlike paper cards, wooden milestone discs are built to last. They are resilient and designed to withstand the test of time, ensuring that your baby's milestones remain preserved for years to come.
Eco-Friendly: Wooden milestone cards are environmentally friendly, making them an excellent choice for environmentally conscious parents. They reduce the need for disposable paper cards and contribute to a sustainable lifestyle.
Versatility: Wooden milestone cards come in various shapes, sizes, and designs, offering endless possibilities for customization. You can find discs with specific milestone markers or blank ones to personalize with your own messages and designs.
Photogenic Appeal: Wooden discs create stunning photo opportunities. Place the disc next to your baby when capturing milestone photos to highlight the significance of each moment. The natural, rustic look of wood adds a timeless charm to your photos.
Beautiful Baby Monthly Milestone Wooden Cards
Wooden Baby Monthly Milestone Discs
24 Designs Monthly Baby Milestone Cards
Using Wooden Baby Milestone Cards and Discs
The versatility of wooden baby milestone cards and discs makes them an ideal choice for documenting your baby's journey. Here are some creative ways to use them:
Monthly Milestones: Create a set of wooden discs, each labeled with your baby's age in months. Place the appropriate disc next to your baby in monthly photos to track their growth and development.
Firsts and Special Moments: Design custom wooden cards or discs to mark significant firsts such as the first smile, first word, or first steps. These cards become unique keepsakes filled with sentimental value.
Holiday and Seasonal Cards: Celebrate holidays and changing seasons by decorating wooden cards with themed motifs. These cards can be reused year after year, becoming a beloved family tradition.
Gifts and Keepsakes: Wooden milestone cards and discs also make thoughtful gifts for baby showers or as a welcome present for new parents. They are cherished keepsakes that capture the essence of early parenthood.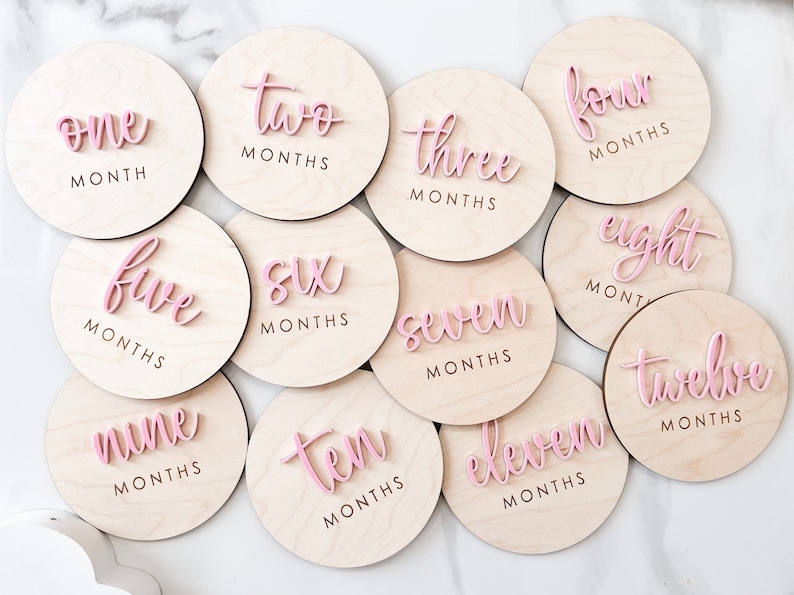 Monthly Wooden Milestone Discs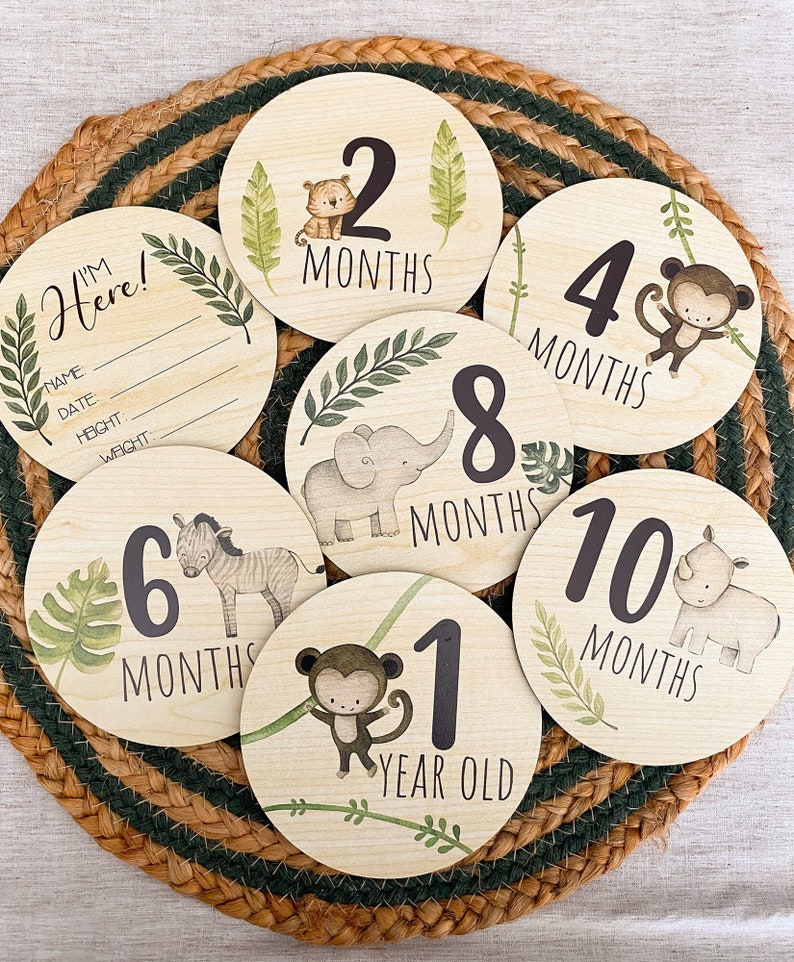 Safari Animals Wooden Milestone Cards/Discs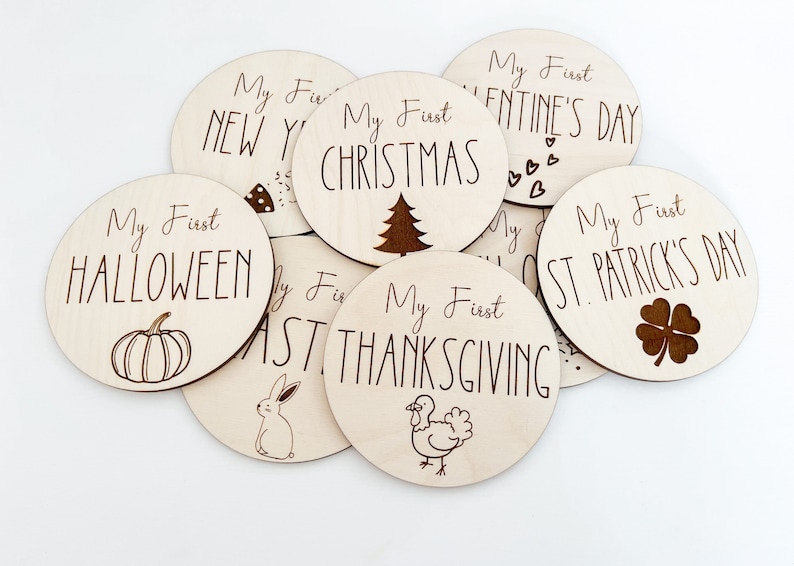 First Holiday Milestones wooden discs

Wooden baby milestone cards and discs are more than just markers of your baby's journey; they are tangible pieces of your family's history. The durability, eco-friendliness, and photogenic appeal of wooden cards make them a charming addition to any family's collection of baby memorabilia.
Whether you choose to document monthly milestones, special firsts, or create personalized holiday cards, these wooden treasures will help you relive the joyous moments of parenthood for generations to come. So, celebrate your baby's milestones with the enduring beauty and charm of wooden baby milestone cards and discs, and cherish the memories they hold close to your heart.