(This post contains affiliate links. Read my full disclosure.)
The journey of parenthood is filled with countless heartwarming moments, from a baby's first smile to their first step. These milestones are not just memorable; they are cherished memories that parents want to capture and share with their loved ones. That's where baby milestone cards come into play.
These adorable cards have become a beloved tradition for new parents, helping them mark and remember every significant achievement in their baby's early life. Here we will explore the world of baby milestone cards, including printable options, cards for boys, and those designed especially for baby girls.
Baby milestone cards, are an exceptional gift choice for baby showers and even for second babies. When given at a baby shower, they provide expectant parents with a heartwarming and practical gift, helping them capture and cherish the significant moments in their baby's life. These cards not only add a personalized touch to the baby's journey but also offer a unique and sentimental keepsake for the family.
For second-time parents, milestone cards are equally valuable, as they provide an opportunity to celebrate the new addition to the family while allowing them to relive the joyous milestones of their first child. It's a thoughtful gesture that brings nostalgia and excitement together, making it a gift that transcends the boundaries of time and seasons, perfect for any growing family.
Printable Baby Milestone Cards
In today's digital age, convenience is key. Printable baby milestone cards have gained immense popularity among new parents. These cards come in various designs, themes, and formats, allowing parents to choose the perfect set to match their baby's personality or nursery decor.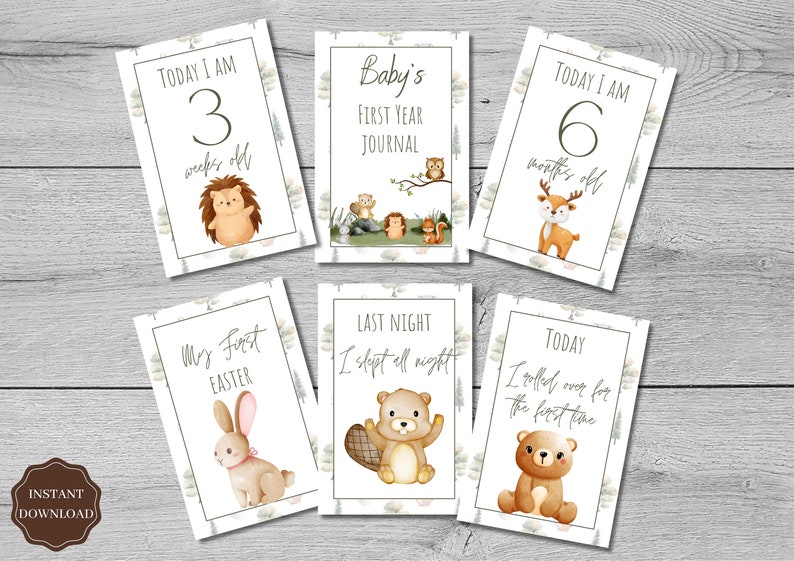 Woodland Baby Milestone Cards Printable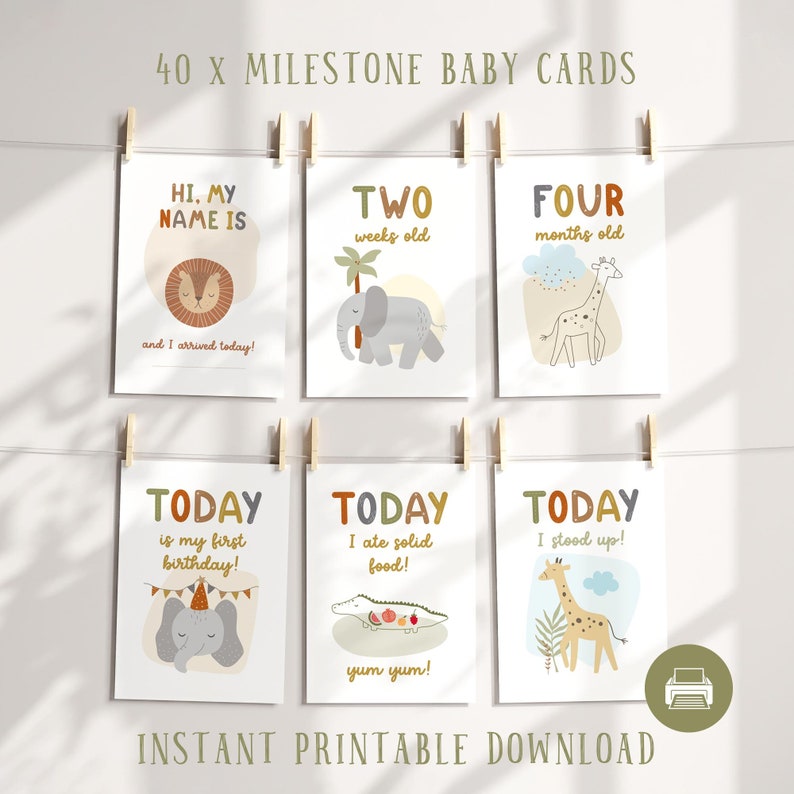 Newborn Baby Milestone Cards Digital

Benefits of Printable Baby Milestone Cards:
Customization: Printable milestone cards can be personalized with your baby's name, birthdate, and other details, making them a unique keepsake.
Instant Gratification: No need to wait for delivery; simply download, print, and start using the cards right away.
Affordability: Printable cards are often more budget-friendly than pre-printed options, making them a great choice for cost-conscious parents.
Eco-Friendly: By choosing printable cards, you reduce waste associated with packaging and shipping.
Baby Milestone Cards for Boys
Welcoming a baby boy into the world is a joyous occasion, and milestone cards designed specifically for boys can add an extra touch of charm to his milestones.
Themes for Baby Boy Milestone Cards:
Transportation: From cars to trains, transportation-themed milestone cards are a fun choice for little boys who love things that go.
Animals: Cards featuring adorable animals like dinosaurs, elephants, or lions are perfect for animal-loving baby boys.
Superheroes: Celebrate your little hero's milestones with superhero-themed cards that showcase his incredible journey.
Nautical: Sail into parenthood with nautical-themed cards featuring anchors, sailboats, and sea creatures.
Baby Milestone Blanket and cards for boy
Baby Monthly Milestone Cards for Boys & Girls
Baby Milestone Cards 36 Cards Set
Baby Girl Milestone Cards
For parents of baby girls, there's a wide array of milestone cards designed to celebrate their princess's accomplishments and firsts.
Themes for Baby Girl Milestone Cards:
Floral: Delicate flowers, pastel colors, and sweet designs make floral-themed cards a popular choice for baby girls.
Princess: Embrace the royalty of parenthood with milestone cards featuring crowns, tiaras, and fairy-tale motifs.
Ballet: If your little one is destined to be a ballerina, ballet-themed milestone cards capture the grace and beauty of her early days.
Unicorns: Sparkle and magic come together with unicorn-themed cards that celebrate the enchantment of childhood.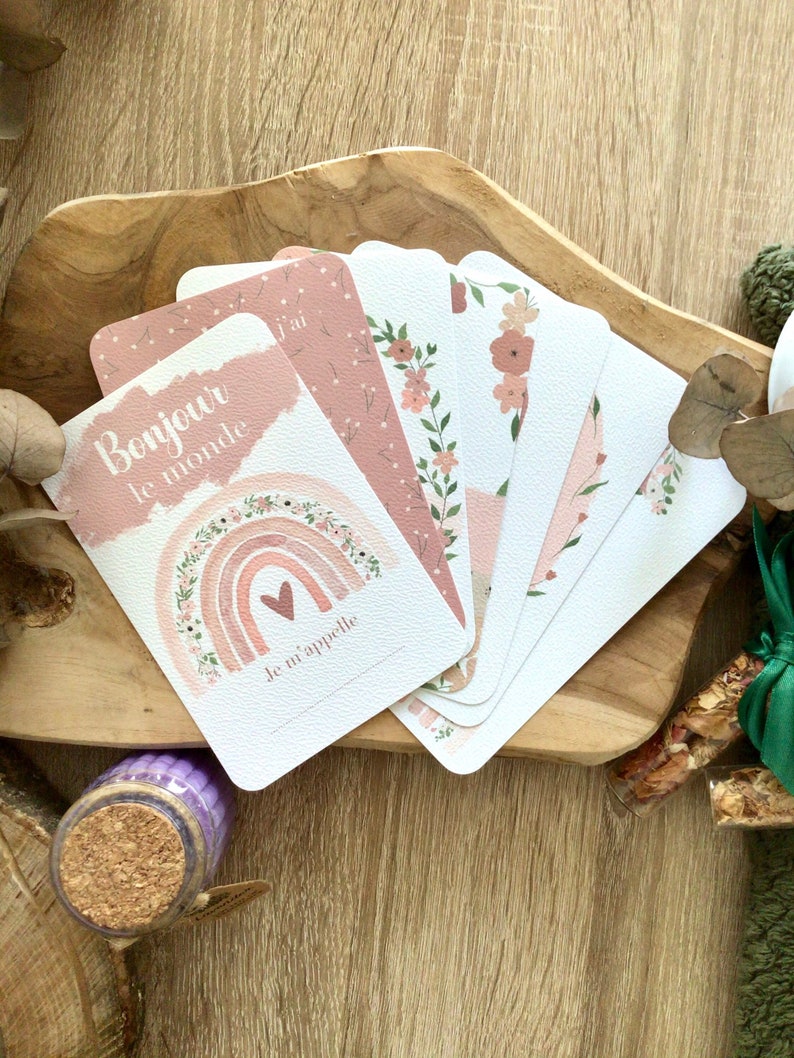 1st year baby milestone cards – Rosé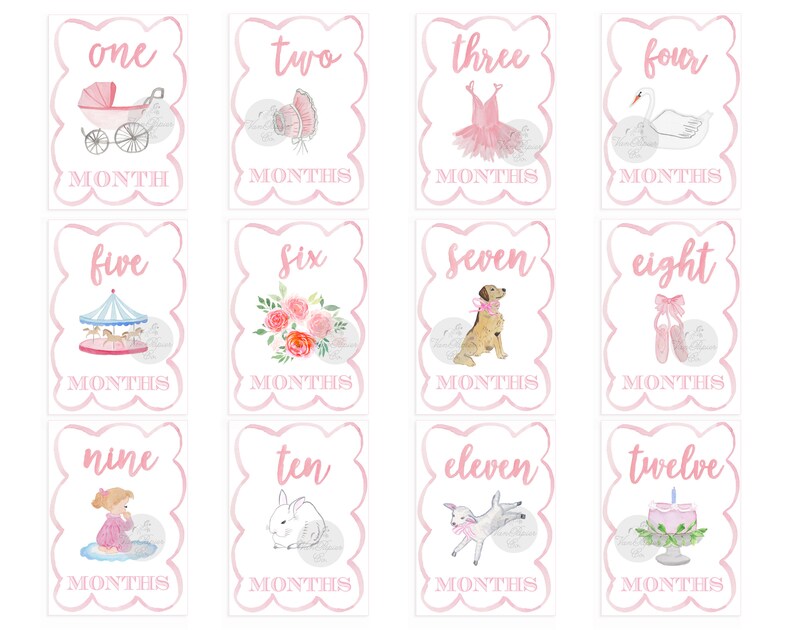 Girls Watercolor Milestone Cards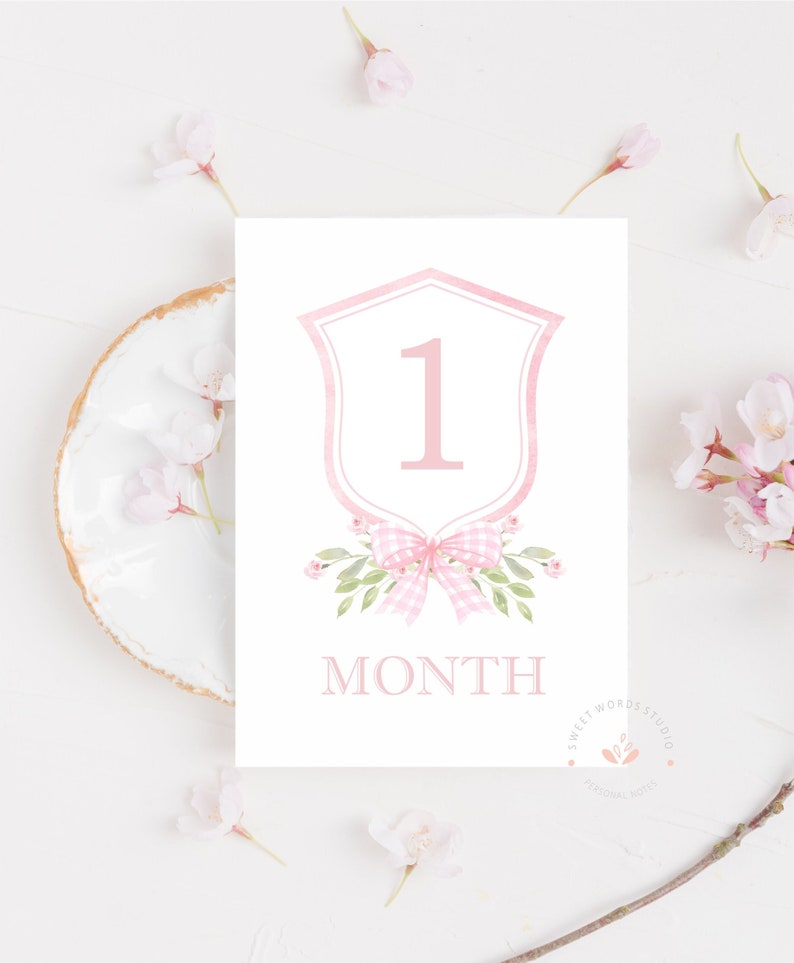 Girl Milestone Cards, Floral Crest

Baby milestone cards are more than just adorable pieces of paper; they are treasured mementos that allow parents to capture the magic of their baby's firsts. Whether you opt for printable milestone cards for instant gratification, select cards designed specifically for your baby boy or girl, or choose a theme that resonates with your family, these cards are a wonderful way to commemorate the journey of parenthood.
As your baby grows, these cards will serve as a beautiful reminder of those precious moments that made you smile, laugh, and cherish every step of the way. So, celebrate your little one's milestones with love, joy, and a dash of creativity through the charming world of baby milestone cards.