Pink and Gold Princess Birthday Party Ideas
(This post contains affiliate links. Read my full disclosure.)
Every Little Princess Loves a party BUT this Pink and Gold theme is just divine, for your little girl or even a big girl.
I love these Pink and Gold Princess Birthday Party Supplies and Ideas I have here for you. They are super easy to do yourself, so need to go spending a fortune BUT once you have done it, it will look a million dollars. You can go all out and have everything in Pink and Gold like even the food and drinks or you can just decorate in Pink and Gold it is up to you so many great ideas here.
Pink and Gold Balloons
Pink & Gold Party Supplies
3 Tier Cupcake Stand
Giant Paper Flower For Parties
Making these giant flowers would be easy if you own a cricut and you can make them yourself. Also If you are crafty and you want to follow an amazing crafter who shares so many amazing idea then follow JenniferMaker and she will actually show you how to make these giant flowers if you don't want to buy them.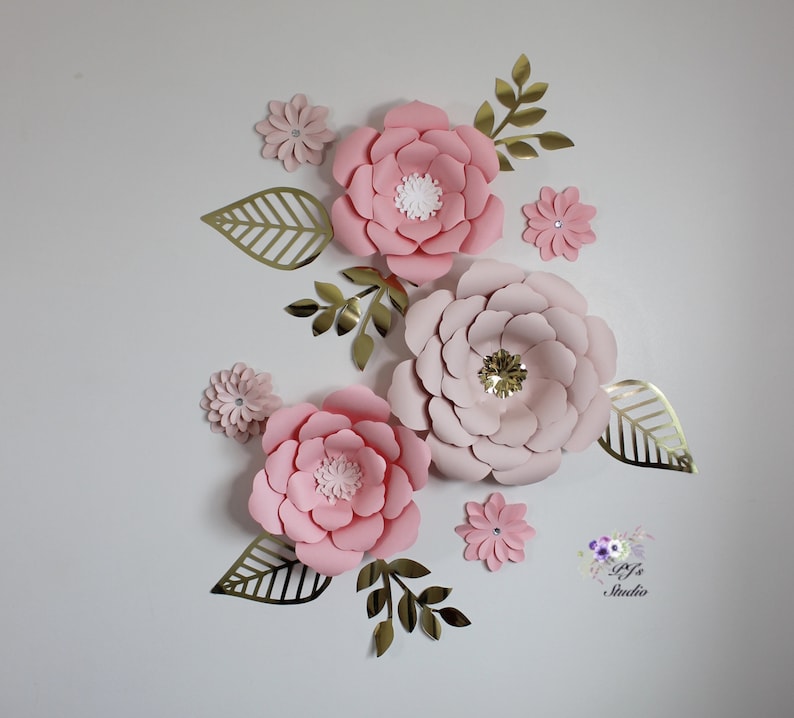 Giant Paper Flowers Pink and Gold

Stunning Pink and Gold Centerpiece
Love these stunning Centerpieces for a Pink and Gold Princess Birthday Party. You could make these yourself as they are so easy. With gorgeous fresh flowers to add a special something to the party. Sparkles and don't forget the Tiara…
? Pink and Gold Princess Birthday Party Supplies
Pink and Gold Pom Poms and Streamers
Every party needs some gorgeous decorations and these Pom Poms and streamers look amazing the way they are hung in this picture. It doesn't take much but it is very effective.
Pink and Gold DIY Letters
These Letters would be perfect to make for the Birthday Girl, they are easy to make and look amazing
Home Decor Craft Paint
Wood Letters
Craft Glitter (Gold)
Pink and Gold Balloons
Gold and Pink Balloons are a must at a Princess Birthday Party, they sure look elegant. I know most kids love balloons so these gorgeous ones will definitely fit in with the whole Pink and Gold Theme. You could also go for helium ones as they always seem to last longer and if you want to use them as a table display centerpiece then they would be perfect. source.
Balloon Garlands
Balloon Garlands are a lovely addition to any party they look absolutely beautiful and you can now buy these DIY kits that you can make them yourself.
Rose Gold and Pink Balloon Garland Arch Kit

Pink and Rose Gold Balloons Garland Arch Kit

DIY Mason Jars Painted Pink and Gold
If you are in to DIY then you will know mason jars are very popular at the moment as they are so versatile, well here they are painted pink and gold and don't they look amazing?
source.
⭐Check Out These Already Painted Pink and Gold Mason Jars
Really cute Idea for a little Princess you could use these as centerpieces on each table
Gold Painted Mason Jars
Ombre Gold and Pink Mason Vases
Pink Hanging Mason Jar
Gold Cutlery
This Gold cutlery sure looks expensive when you first look at if then you realize it is plastic Wow how great does it look and it sure fits in well with the pink, so it is a definite must at a pink and gold princess party.
Princess Birthday Party Table
This image of this party table all set up looks amazing I sure would be impressed if I walked into a Birthday party or baby shower and this was there. BUT you know what it is not hard to have this you just need to co-ordinate everything and it will look just as good. Pink and gold birthday decorations as as well as baby shower and christenings. any occasion really.
⭐Check these Gorgeous Tables Out Here
Pink and Gold Decorations
Birthday Party Decorations
Balloon Garland Kit
Sign For Your Princess Party
This cute little wooden heart stand is just a perfect extra for your Princess party you can write on it many different things like "Gifts" "Thank you for coming" Please take your Princess slice of cake" "Frogs allowed" "Princess party Here" I am sure you will come up with something perfect for your party. Perfect princess birthday party decorations as they can be used as favors as well as signs around the party.
Heart Little Black Boards
Craft Easels for party displays
Chalkboard Sign with Easel
Gorgeous Pink and Gold Cake

Every party needs a Birthday cake and this tiered cake in just so Elegant and Beautiful in Gold and Pink and a Crown on the top what more could you want.
I am a great baker so for me this looks relatively easy and I would try this myself but if you are not a baker that is fine you can outsource it.
If you watch the video below you will see that there is a lot of work that goes into making a spectacular cake but the sense of achievement afterwards is amazing.
Party Ideas In Pink and Gold
Princess Birthday Party Inspiration and Ideas in Pink and Gold looks so elegant and Beautiful. The theme really is endless with not just the decorations but all the food and drinks. I would go a little crazy with everything matching but that is just me.
Pink and gold party decorations are really eye catching together and they appeal to every little princess, now trying to get the correct princess party supplies can be a little tricky if you don't have the supplies handy but getting them online seems to be the way to go about getting princess birthday decorations
I do love a birthday and when it is my children's birthdays I always go all out. I am exhausted afterwards but it was worth every late night…
Gowns and Dresses in Pink and Gold
Lace Princess Dress
Princess Party Dresses
Princess Party Dress
When planning for any party you have to have the theme decided on first, then you can plan it and it will all come together perfectly. These Pink and Gold Princess Birthday party supplies & pink gold princess themed party ideas are just lovely for a little girl or even an older girl heck I would love this myself and I am over 30….
Pink and Gold Party Supplies and pink and gold party decorations can be sourced from so many different places once you get the theme sorted in your head then you will be able to set up the most amazing party.
See Today's Best Sellers in Kids Party Supplies
Related Posts:
–