(This post contains affiliate links. Read my full disclosure.)
How to Host a Virtual Baby Shower
With the world every changing and all that is going on with the pandemic. People for one reason or another can not all get together at one place. With flights canceled and restrictions in place and not being able to get out and about or meet up, then hosting a virtual baby shower is really the perfect solution.
You might have heard the term virtual baby shower or online baby shower and though what the?!?! Well it seems this is becoming the norm these days and with people having babies no matter what is going on. You still have the right to celebrate so what better way than to have a Virtual party.
What is a Virtual Baby Shower
So you will have friends and family asking you What is a virtual Baby Shower? Then you might need to explain it to them, it is a party for the mother-to-be connecting with her guest to celebrate your baby. But instead of everyone coming to your place or all meeting at a function room, everyone will be at their own homes and they will all be connected online so you feel like you are having a party together.
Virtual Baby Shower Etiquette
So as a virtual baby shower is some what new and very popular now with social-distancing, you may be the first among your family and friends to be planning one.
So you are probably wondering what the right way about it you should go. This is going to be a little trickier than a normal baby shower, you are probably going to have to stumble your way through it, but we are here to give you as much help, tips and advise so you can pull this thing off.
To be honest there isn't a lot of information online on how to throw a virtual baby shower.
First off I think the hardest thing is convincing your friends and family that having a virtual baby shower is going to be just as fun as a normal baby shower.
Hosting and planning
Don't be scared in planning a virtual baby shower, it is so important now more than ever that you keep social and that you celebrate the wonderful upcoming birth of your baby.
Planning your online baby shower will take you mind off the events of the world at the moment. You have to celebrate this amazing time in your life and don't let set backs stop you.
Have the best baby shower you can, everyone will enjoy themselves and this might be the norm for a while to come so embrace it.
Choosing a date and time will be the first thing you will need to do, if you are in different time zones, be aware of that and trying and work around a good time for everyone. Give plenty of notice that way everyone can plan ahead.
Virtual Baby Shower Care Packages
If you have to time and all things going well, then making up a little care package for everyone is a wonderful idea but it could also get a little pricey so this is optional.
Virtual Baby Shower Invitations
Party Invitations are very easy to make online and you can send them via email, messenger or any other app you like as once they are made into a pdf they are good to be sent. You can get so many great options from etsy or if you are creative with Photoshop or affinity Designer then you can make your own save as a pdf then email to all the guests.
In the invitations put some instructions and explain the concept of a virtual baby shower. Explain how this online baby shower will work, time and date, how to log on, the gift registry details, games they might need to download and print off or if you have sent a care package to each guest then include all this plus how to use the care package.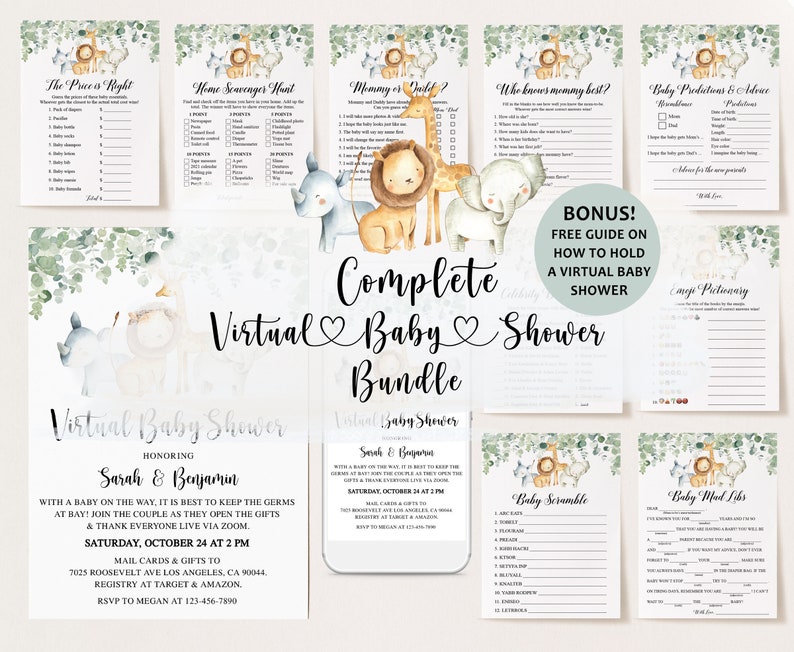 Virtual Baby Shower Full Bundle, Invitations and games

Baby Shower Decorations
You really want this to feel like a real party so decorations are a must as is food. You don't need to go over board but having a little table set up with yummy treats will look lovely.
A backdrop is probably the best thing to have, so a balloon garland, streamers, and or banners.
Rustic Wood Baby Shower Backdrop
Baby Shower Party Decorations
Online Baby Shower Games
Preparing the games is easy and if you are sending a care package to all your guests then you could print off all the game sheets and send them to them or otherwise you can email everyone a set and they can print them off themselves.
Games are always loads of fun and everyone seems to have a good laugh. Online you can get so many different printables that you will be able to download and print off. Here are some awesome Printables your can grab for your online baby shower, Safari Baby Shower theme games, Unicorn Baby Shower Theme games, Nautical Baby Shower Theme Games and many more if you want to have a these Baby Shower Games. These include games, like word search, Who knows mommy best, Bingo, Baby crossword, baby shower quiz and some other great ones.
Grab your Online Baby Shower Games Printables here
Technology Needed
So to host an online party everyone needs to have some sort of device which has a camera, so laptop, PC, Mac, Ipad, tablet or even your Iphone.
They will also need internet and the ability to connect through an app like Facebook, Whatsapp, Facetime, Zoom or Skype. Being the host it would be great if you could hook up your device to the TV so you had a huge screen to see everyone on. This would require a HDMI cable or chromecast but I am pretty sure someone you know will be able to assist you and your guest with getting it all set up.
Even having a test run with some un-techie people a day or 2 before might be a great idea.
Virtual Baby Shower Gifts
Mmmmm gifts, how does this work you will probably be asking. It can be done a few different ways and you choose which suits you the best. Your friends and family can send them to you so on the day at the virtual party, just like a normal party you can open them in front of everyone.
You can also set up a baby registry on Amazon and get them to send them to your house, they will even gift wrap it for you with a tag.
The other option is all your guest can bring the presents to the Virtual Party and you can watch as they unwrap them for you. Everyone can take turns sitting close the their devices so you can see them close up.
Related posts:
–