*This post may contain affiliate links.
If you're ready to decorate your home for Christmas in cozy Country Style farmhouse decor, you found the perfect page for ideas.
These affordable and budget friendly Country Style Farmhouse Christmas decor ideas are not only pretty, they are easy to DIY, yourself to get that gorgeous Farmhouse look and feel and you don't need to blow the budget.
Here are some of my favorite country-style farmhouse Christmas decorating ideas for every area of your home you can even take that look outside as well.
Farmhouse style decor is really simple to replicate and looks very stylish, you may like the shabby chic look as well as the modern rustic style. Some really Easy ways to decorate your home for Christmas in a country style farmhouse way.
Country Style Christmas Signs
I really love this sign as looks very simple but pretty and looks good over the mantle or even in a bedroom. The fancy script looks so lovely and you ca buy any frame that takes your fancy to put this in.
Rustic Picture Frame Set
Rustic Distressed Picture Frame
Farmhouse weathered frame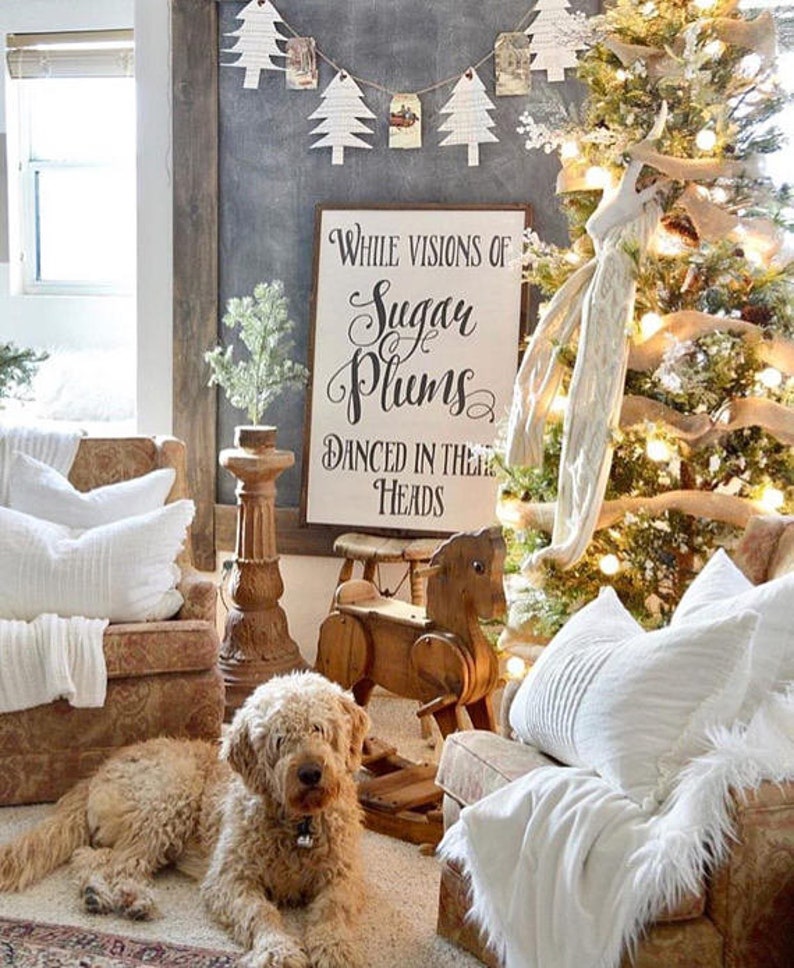 Have Yourself A Merry Little Christmas DIGITAL PRINT

I love these signs as they look so pretty any where in the house.
You can checkout the image and DIY everything yourself to get that Farmhouse Christmas Decor look – Oh except the dog unless you have one like this already he he.
---
Farmhouse Christmas Wreaths
As soon as it is time to put the Christmas decorations up my daughter makes sure the wreath is on the front door, i think she feels like when she comes home from school or just after being out that Christmasy feel makes her so happy and seeing the wreath is the first sign of a house with a Christmasy feel.
I just adore these country style wreaths especially the real cotton one as it sure has a farmhouse feel it sort of reminds me of little house on the praire for some reason don't know why.
Woodsy Country Christmas Wreath
Christmas Wreath for Indoor & Outdoor
Real Cotton Wreath Farmhouse
Farmhouse Christmas Wreath
---
Christmas Decorations Pillow Covers
Mason Jar Sconces with LED
Holiday Time Christmas Decor Pre-Lit Entryway
These Christmas burlap stockings are a very cool idea to add that rustic look to any farmhouse country style mantel and they really do look wonderful.
Burlap Chirstmas Stockings
Rustic Christmas Wreath with Burlap Mesh
Burlap Christmas Stockings
The holiday season is a very sentimental time for so many and we can get so caught up in the finner details of holiday décor. Many people capture wonderful memories of their childhood by incorporating rustic farmhouse elements in their Christmas decorating ideas. Christmas can bring back a lot of wonderful memories for most people and if you have memories of that country farmhouse style theme then why no make it a tradition and do it for your place.
It can be fun and easy to find the right décor but if you really dig deep and look around you will find your perfect things that will make your farmhouse Christmas decorating just perfect.
I am loving the cozy farmhouse feeling in my home during the holiday season. It can be quite time consuming but all you need is a little imagination and creativity when you come up with Christmas decorating ideas. Many items you can buy like burlap cloth and holly and old rustic looking candle holders but when you take the time you truly can create a wonderful atmosphere which looks and feels like a country farmhouse or rustic cabin.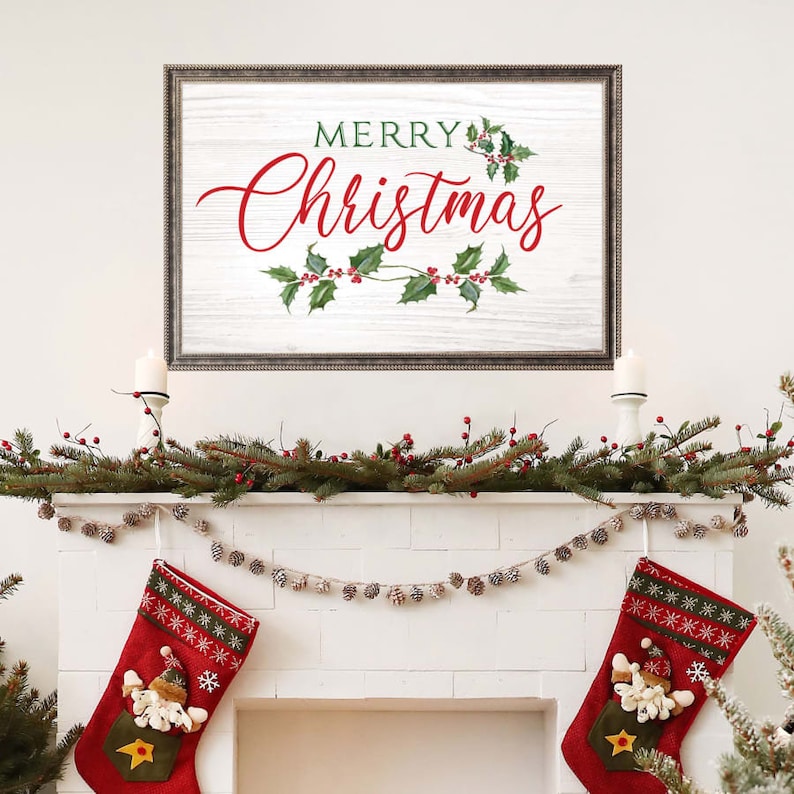 Merry Christmas Rustic Wall Decal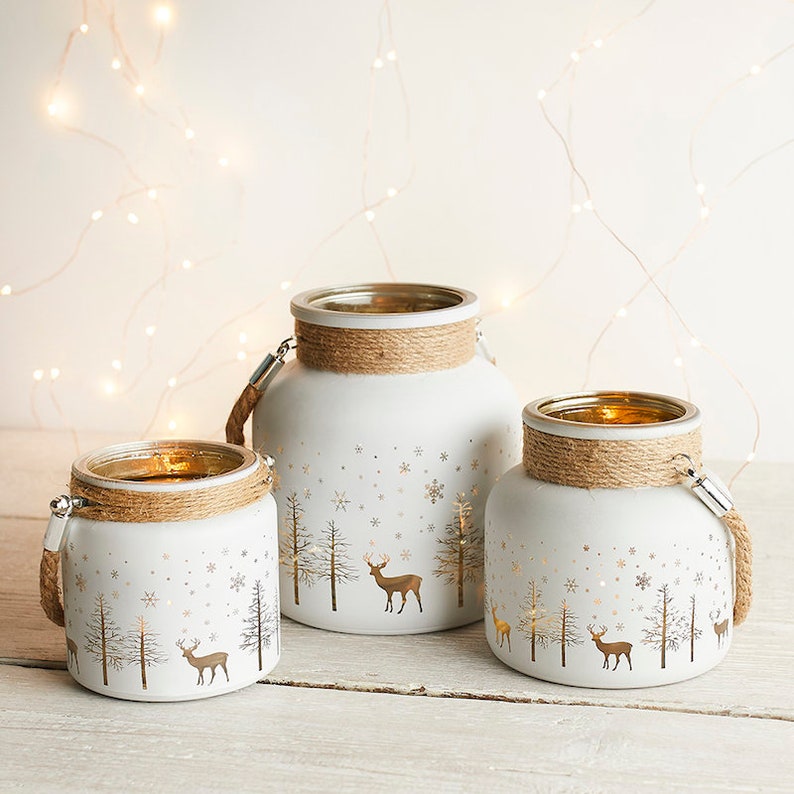 Christmas Candle Holders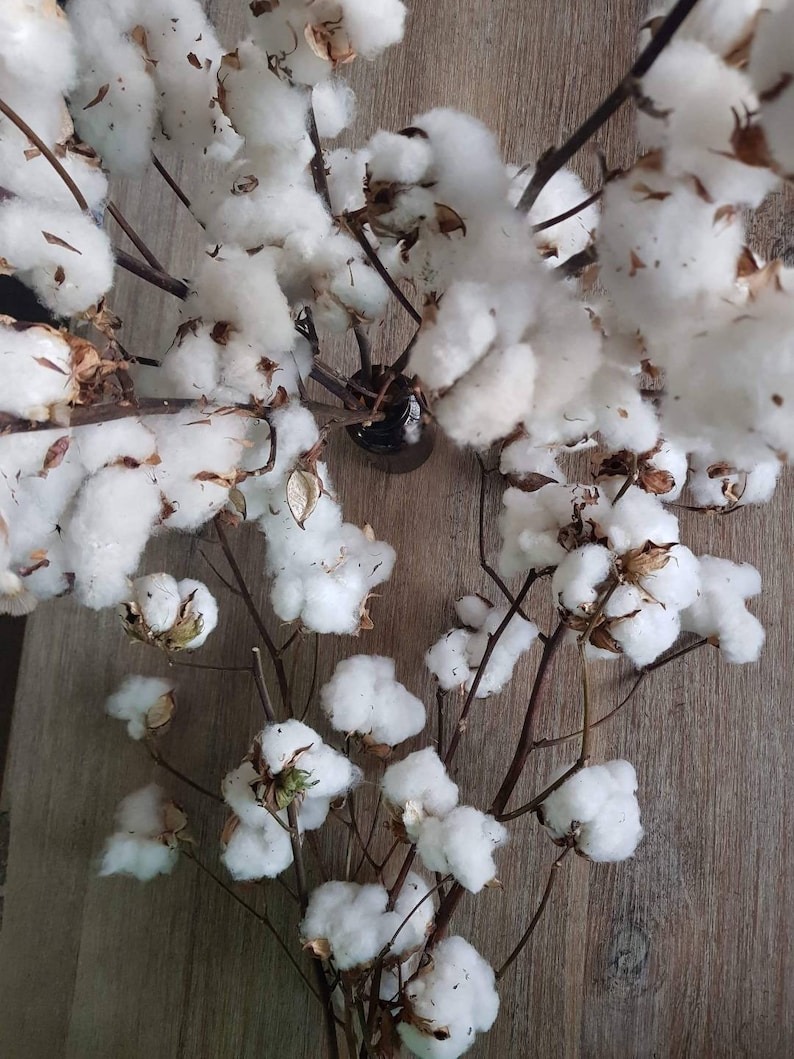 Natural Cotton Branches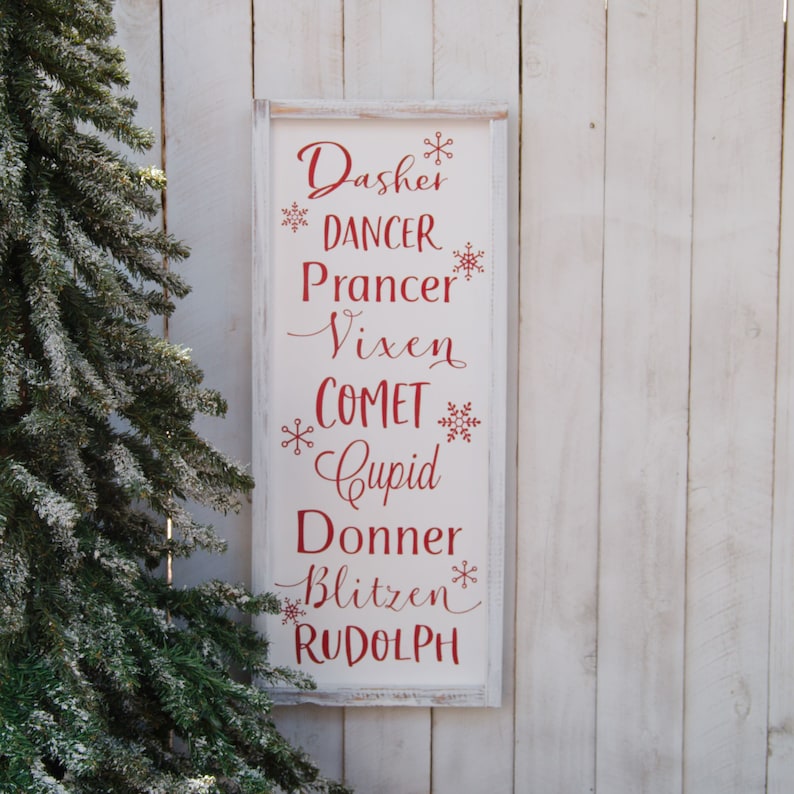 Reindeer Names Framed Sign

Honestly the Farmhouse Christmas theme can be accomplished by using cheap and simple household and yard items like berries and pine cones or timber indoors and having them placed beautifully on your mantle or wooden country style dining table and they just look magical.
I love the idea of big rustic frames that can be used as mirrors or to hold tapestries or stitching and they do look very country like. Also many DIY decorations you can hang from the tree like styrofoam balls covered in burlap cloth or, checkered materials or wooden round slices you can paint.
---
See Today's Best Sellers in Home Décor Products

---
Related Posts
–